Graduation Info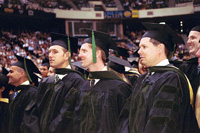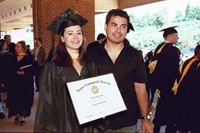 Academic regalia
Students participating in the Commencement ceremony must wear academic regalia (caps, gowns and hoods). Regalia will be available for purchase during the Grad Fair events. The MCV Campus Grad Fair is scheduled on March 11 at the Barnes & Noble @ VCU Medical Center from noon to 6 p.m. The Monroe Park Campus Grad Fair is scheduled on March 12 and 13 at the Monroe Park Barnes & Noble @ VCU from 10 a.m. to 6 p.m.
Following the Grad Fair, regalia will be available for purchase at the Barnes & Noble @ VCU on the Monroe Park and MCV campuses. If you are unable to attend the Grad Fair or visit the bookstore, please order your regalia online at balfour.com/vcu beginning March 14. Shipping charges will apply to all internet orders. Caps and gowns will not be available at the Commencement ceremony. Caps and gowns will not be available at the Commencement ceremony.
Regalia prices, including cap, gown, hood and tassel are: bachelor set, $56.98; master set, $73.98; Ph.D./Ed.D. set, $108.98; and professional doctorate set, $59.98 (professional doctorate programs include D.D.S., M.D., D.N.A.P., D.N.P., O.T.D., Pharm.D. and D.P.T.). Prices do not include sales tax.
In addition to being the place where you will receive your cap and gown, the Grad Fair will feature many other services and activities. Representatives from various departments and offices will be available during the Grad Fair to help you prepare for graduation, including VCU Alumni, the University Career Center, the Graduate School and many more. During the Grad Fair, you can also have your first graduation photo taken in full regalia, order graduation announcements, select an official VCU class ring and purchase graduation accessories.
Regalia assistance
A fund has been established to provide relief for those who need financial assistance in purchasing regalia. Students may access the application for regalia assistance online at students.vcu.edu/resources/regalia-assistance. Applications will be accepted beginning Feb. 1 and will be approved after March 14.
Assembling and robing
Graduates should arrive at the Greater Richmond Convention Center by 9 a.m. Graduates should proceed to the line-up area at the Fifth and Marshall entrance of the Ballroom Pavilion of GRCC. Once inside, follow the signs located throughout directing graduates to the Grand Ballroom.
Graduates, please be cautious wearing tall heels as you will be navigating stairs and escalators during the processional.
Graduates, if you arrive after 9:30 a.m., you may be unable to sit with your school.
Class giving campaign
Commemorate your graduation year with a $20.19 class gift and make a difference for those following in your footsteps. This is your chance to give back to VCU as a soon-to-be alumnus. Join your classmates in supporting the university and create a lasting legacy for the Class of 2019. Make your gift online at go.vcu.edu/2019classgift.
Class rings
See the many custom-crafted class ring options, get sized by a representative from Balfour and purchase your class ring during the Grad Fair events on March 11 on the MCV Campus and March 12 and 13 on the Monroe Park Campus. Current STAT donors will save $60 on class rings, or if you update your post-graduation information with VCU Alumni, you could receive $35 off your class ring. Class ring informational brochures are available any time in the bookstores. For additional ordering information, please visit balfour.com or call (866) 225-3687 (BALFOUR).
Commencement announcements
Announcements are the traditional way to tell your friends and family about your achievement. Standard etiquette is to send announcements out two weeks before graduation, but announcements may be ordered at any time and can be sent to friends and family after graduation.
Personalized announcements are available online at balfour.com/vcu or by calling (800) 433-0296. These announcements are printed with the graduate's full formal name, degree and major. Please allow five to seven business days for announcement order delivery.
Standard announcements do not include a printed name or degree information (blank name cards included). These are $8 for a package of five and are available for sale at the Barnes & Noble @ VCU on the Monroe Park and MCV campuses.
Commencement exercises: departmental and universitywide ceremonies
Graduates have the opportunity to celebrate their achievement at multiple ceremonies, including the universitywide ceremony and their school's or department's ceremony.
At school or departmental ceremonies, graduates are recognized individually, with their name announced during the ceremony. Graduates will receive information about these ceremonies from their school or department office. For a listing of these ceremonies, please visit Departmental Ceremonies.
These ceremonies are separate from the universitywide ceremony held on Saturday, May 11 at 10 a.m. at the Greater Richmond Convention Center, 403 N. Third St., Richmond, Va. 23219. At the universitywide ceremony, graduates are recognized collectively by school, with the exception of Ph.D. and Ed.D. candidates, who are recognized individually.
Degree Audit Office
If you or a family member have any questions concerning graduation, please feel free to contact the Degree Audit Office at graduation@vcu.edu or (804) 827-1673 from 8 a.m. to 4:30 p.m., Monday through Friday.
Diploma frames
Diploma frames designed and matted especially for VCU will be available through the bookstores. For additional information, please visit or call the Barnes & Noble @ VCU on the Monroe Park Campus at (804) 828-1678, or the Barnes & Noble @ VCU on the MCV Campus at (804) 828-0336.
Diploma and degree conferral
Diplomas selected for pickup will be available in the Harris Hall Student Services Center, 1015 Floyd Ave., First Floor, Floyd Ave. Lobby, during office hours beginning on or after Monday, June 10. Office hours are 8 a.m. to 5 p.m., Monday through Friday. If a third party plans to pick up your diploma, you must provide an authorization notification to the Degree Audit Office via email (graduation@vcu.edu) 24 hours prior to the pickup. Diplomas not picked up by June 21 will be mailed starting June 24. Diplomas selected for mailing will be mailed beginning June 13.
The official conferral date for May 2019 degrees is May 18, 2019. Degrees will post to your record on Tuesday, May 28, 2019. Degrees will not appear on your academic transcript until this date. Degrees will only show for those students who have satisfied all degree requirements and receive final approval. Check your academic transcript via eServices to ensure your degree has been posted before requesting official transcripts.
Name of use
If you are requesting changes based on a legal change of name, the first step is to process your legal change of name with the university. Information about processing your legal change of name with the university may be found at rar.vcu.edu/records.
If you have not changed your legal name and are requesting changes based on the name of use, then please consult students.vcu.edu/find-resources/dean-of-students/resources.
Diploma name
Students are allowed to request a preferred diploma name. While completing your graduation checkout, please print/type your name exactly as you wish it to appear on your diploma, include accents, spaces, capitalization and applicable suffixes. No additional titles such as Esq. or Dr. will be permitted on the diploma name. In addition, nicknames or names enclosed by parenthesis or quotation marks will not be permitted. To make adjustments to your preferred diploma name, please email the Degree Audit Office at graduation@vcu.edu.
Financial aid guidance
There are free resources to help you navigate life beyond college. Want to figure out how much you need to pay on your student loans and when? Visit studentloans.gov/myDirectLoan/index and use the online loan repayment calculator or access repayment forms. Maybe you need help making the most of your money. Learn about the Five Money Principles you should keep in mind when making day-to-day financial decisions by visiting mymoney.gov/mymoneyfive/Pages/mymoneyfive.aspx. These resources will help you learn ways to minimize your debt and save for the future.
Graduation portraits
GradImages will take studio-quality portraits featuring your choice of background plus cap and gown at the grad fairs on March 11 on the MCV Campus and March 12 and 13 on the Monroe Park Campus. This is the best time to have your photo taken, so please come prepared. A final opportunity will be available before Commencement exercises, from 7:30 to 9:30 a.m., May 11 at the second-level Grand Ballroom at GRCC. Portrait opportunities are sponsored by VCU Alumni.
Guest seating
GRCC doors will open for guests at 8:30 a.m. Guests should enter at the Third and Marshall or Fifth and Marshall entrances to the Exhibit Hall Pavilion of GRCC. Guests should allow additional time to travel and park as heavy traffic in the area is anticipated. Tickets are not required, and there is no reserved seating. Seating is limited and available on a first-come, first-served basis.
Guidelines for cords, stoles and pins
We hold all of our graduates in high esteem and recognize their achievements at Commencement, a ceremony at which we celebrate the unity of the body of undergraduates and honor their academic achievements.
In addition to the traditional cap and gown regalia worn at this event, students are entitled to wear honor cords and stoles to signify achievement through college organizations or association with international groups or programs. The student/organization/group is responsible for the cost of any such regalia. Graduation stoles and honor cords must be in keeping with the decorum of the event and within the following guidelines:
Graduation stole – A stole takes the form of a cloth, scarf-like garment worn over the shoulders adorned with the organization's colors and/or insignia. A student may wear only one stole at a time.
Honor cord – An honor cord is a token consisting of twisted cords with tassels on either end. The cord signifies specific academic achievement or membership in a recognized academic honor group or society. More than one cord may be worn at the same time.

Please note: At this time, the university does not distribute or sell cords based on or related to Latin honors designation. Latin honors will be acknowledged in the Commencement booklet. For more information on Latin honors, please visit rar.vcu.edu/graduation.
Pin, insignia or badge – These items are tokens specifying academic achievement or membership in a recognized academic honor group or student organization. These items are traditionally worn on the gown. More than one of these items may be worn at the same time.
All three items may be worn simultaneously as long as they do not conflict in appearance with the official stoles worn by faculty marshals or other designated members participating in the ceremony.
Although there is no set protocol for Commencement regalia, members of organizations not based on academic merit may be eligible to wear appropriate graduation stoles; honor cords; and/or pins, badges or insignias with the approval of the Dean of Students Office. If your organization is interested in wearing these accoutrements, please submit your request in writing to the Dean of Students office at vcudean@vcu.edu.
Moving out
As you prepare to move out, we encourage you to coordinate with your roommates to create a move-out plan. We encourage everyone to plan ahead and sell or donate all your unwanted items. Please note that furniture should not be left behind in your unit, nor on sidewalks or in alleyways. Local charities are available to coordinate a pickup for any larger items that you have for free. For smaller, reusable items such as clothes, housewares, books and food, please drop items off in one of the many Goodwill or Ram Pantry bins located in all the residence halls and around campus. For large items that must be trashed, call 311 to schedule a bulk pickup with the city. For more tips on how to properly dispose of items visit offcampus.usca.vcu.edu/resource.
Parking
Parking is available to the public for a nominal fee at the GRCC Third and Marshall streets parking deck, and the Fifth and Marshall streets garage.
GRCC parking deck
The GRCC parking deck is located at the corner of Third and Marshall streets and is conveniently connected to GRCC via an enclosed skywalk. For GPS directions to this parking deck, use the following address: 351 N. Third St., Richmond, Va. 23219. For maps and directions, visit richmondcenter.com/directions. Parking in this deck is limited, so guests are encouraged to come early.
Fifth and Marshall streets garage and other parking options
The Fifth and Marshall streets garage is located at 500 E. Marshall St., Richmond, Va. 23219.
For a detailed map on downtown parking locations, please visit richmondgov.com/Parking/.
Greater Richmond Transit Company
GRCC is also conveniently located on the GRTC Pulse route. The Convention Center station is located at Fourth and Broad streets and is a short three-minute walk to GRCC.
Pins for first-generation graduates
You First at VCU, an initiative of the Division of Strategic Enrollment Management, has a gift for you. They have designed a special "You First at VCU" pin for you to wear on your regalia as you celebrate your big day.
Who qualifies as a first-gen student? Any student whose parents did not complete a four-year degree is considered a first-generation student. Some of you may have siblings who are attending college or who completed a degree — you and your siblings are part of the same generation. You're all first-gens!
Pins will be available for graduating first-generation students at the Grad Fair on March 11, 12 and 13, and at Hibbs Hall, Room 201, after April 1.
Prohibited Items
GRCC policy strictly prohibits alcohol, backpacks and duffle bags, balloons, coolers, bottles, cans, outside food and drink, drones, laser pointers, artificial noisemakers, firearms, weapons or tools, wrapped packages, and banners and signs. In addition, graduates are asked not to bring their purses or other valuable items, beach balls, Silly String or flammables of any form. All graduates and guests will be subject to security screening when arriving at GRCC. If you are found to have any prohibited items during the screening process, you will be asked to remove those items prior to entering the ceremony.
RSVP for VCU Commencement
Students who plan to participate in VCU's universitywide Commencement ceremony on Saturday, May 11 at GRCC are asked to RSVP.
Visit go.vcu.edu/maygraduates2019 to RSVP and reserve your seat. For questions, please email UNIVevents@vcu.edu.
Special accommodations
Accessible seating options are available throughout the exhibit halls of GRCC. In addition, closed captioning with be provided on screens throughout the exhibit halls for persons with hearing impairment. An accessible drop-off area will be designated on Third Street, adjacent to GRCC.
If you are a graduate with a disability and need accommodations at the ceremony, please contact Student Accessibility and Educational Opportunity at (804) 828-2253.
Family and guests seeking additional information about accessibility/ADA at the GRCC should visit richmondcenter.com/visitor-amenities.
VCU Alumni
You've had a great ride, and the memories of your time at VCU will stay with you forever. But don't leave VCU in the rear view. Connect now with VCU Alumni to discover all the ways you can remain connected with your alma mater long after the big day. As a graduate, VCU Alumni offers opportunities for you to join regional, academic or special interest-based chapters; take part in networking and career development opportunities and save on insurance. Most importantly, make sure you stay connected after graduation by providing a non-VCU email and other updated contact information at vcualumni.org/alumni/update. Becoming official alumni is closer than you think. If you have any questions, email alumni@vcu.edu.
Visitor information
If you need information about lodging and dining accommodations, "The Official Visitor's Guide" is available from Richmond Region Tourism, 401 N. Third St., Richmond, VA 23219. Call (804) 783-7450 or (888) 742-4666, or visit visitrichmondva.com.