Graduation Info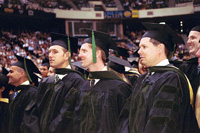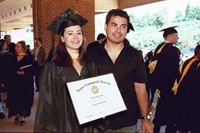 Academic regalia
Regalia will be available for purchase during the Grad Fair events. The MCV Campus Grad Fair is scheduled for Sept. 30 at the Barnes & Noble @ VCU Medical Center from noon to 6 p.m. The Monroe Park Campus Grad Fair is scheduled for Oct. 1 and 2 at the Monroe Park Barnes & Noble @ VCU from 10 a.m. to 6 p.m.
Following the Grad Fair, regalia will be available for purchase at the Barnes & Noble @ VCU on your respective campus. If you are unable to attend the Grad Fair or visit your bookstore, please order your regalia online at balfour.com/vcu beginning Oct. 3. Shipping charges will apply to all online orders. Academic regalia will not be available at the Commencement ceremony.
Regalia prices, including cap, gown, hood and tassel are: bachelor set, $56.98; master's set, $73.98; Ph.D./Ed.D. set, $108.98; and professional doctorate set, $59.98 (professional doctorate programs include D.P.T., D.D.S., Pharm.D., M.D., D.N.P and D.N.A.P.). Prices do not include sales tax.
In addition to being the place where you will receive your cap and gown, the Grad Fair will feature many other services and activities. Representatives from various departments and offices will be available during the Grad Fair to help you prepare for graduation, including the Office of Alumni Relations, Office of Continuing and Professional Education and VCU Career Services. During the Grad Fair, you can also have your first graduation photo taken in full regalia, order graduation announcements, select an official VCU class ring and purchase graduation accessories.
Regalia assistance
A fund has been established to provide those with financial need assistance in purchasing regalia. Students may access the application for regalia assistance online at students.vcu.edu/resources/regalia-assistance. Applications will be accepted online beginning Sept. 30.
Assembling and robing
All candidates should plan to arrive at the Siegel Center, 1200 W. Broad St., by 9 a.m. using the Harrison Street entrance. Candidates should follow signs to their school assembly areas, where faculty marshals will provide further information. Candidates may choose to arrive in their regalia or get dressed on site. Academic regalia will not be available at the Commencement ceremony.
Class giving campaign
Commemorate your graduation year with a $20.19 class gift and make a difference for those following in your footsteps. This is your chance to give back to VCU as a soon-to-be alumnus. Join your classmates in supporting the university and create a lasting legacy for the Class of 2019. Make your gift online at go.vcu.edu/2019classgift.
Class rings
See the many custom-crafted class ring options, get sized by a representative from Balfour and purchase your class ring during the Grad Fair events at the Barnes & Noble @ VCU on the Monroe Park and MCV campuses. Current STAT members will save $60 on class rings, or if you update your post-graduation information with VCU Alumni in the Office of Alumni Relations, you could receive $35 off your class ring. Class ring informational brochures are available anytime in the bookstores. For additional ordering information, please visit balfour.com/vcu or call (866) 225-3687 (BALFOUR).
Commencement announcements
Announcements are the traditional way to tell your friends and family about your achievement. Standard etiquette is to send announcements out two weeks before graduation, but announcements may be ordered at any time and can be sent to friends and family after graduation.
Personalized announcements are available online at balfour.com/vcu or by calling (800) 433-0296. These announcements are printed with the graduate's full formal name, degree and major. Please allow five to seven business days for announcement order delivery.
Standard announcements do not include a printed name or degree information (blank name cards included). These are $8 for a package of five and are available for sale at the Barnes & Noble @ VCU on the Monroe Park and MCV campuses.
Commencement exercises: Departmental and universitywide ceremonies
Graduates have the opportunity to celebrate their achievement at two ceremonies: the universitywide ceremony and their school or departmental ceremony.
At school or departmental ceremonies, graduates will be recognized individually and typically will walk across the stage. Graduates will receive information about these ceremonies from their school or department office. For a listing of these ceremonies, please check back for more information.
School and departmental ceremonies are separate from the universitywide ceremony held on Saturday, Dec. 14 at 10 a.m. at the Stuart C. Siegel Center, 1200 W. Broad St. At the universitywide ceremony, graduates are recognized collectively by school, with the exception of Ph.D. and Ed.D. candidates, who will be recognized individually.
Degree Audit Office
If you or a family member have any questions concerning graduation, please feel free to contact the Degree Audit Office at (804) 827-1673 from 8 a.m. to 4:30 p.m., Monday through Friday. Graduation candidates needing special accommodations for the Siegel Center ceremony may call (804) 828-2253 or refer to the appropriate sections of this website.
Diploma and degree conferral
Diplomas selected for pickup will be available at the Student Services Center in Harris Hall, 1015 Floyd Ave., Room 1004, during office hours beginning on or after Monday, Jan. 27, 2020. Office hours are 8 a.m. to 5 p.m., Monday through Friday. If a third party plans to pick up your diploma, you must notify the Degree Audit Office via email (graduation@vcu.edu) from your VCU email account on the same day to authorize the pickup. Diplomas not picked up by Feb. 7 will be mailed starting Feb. 10. Diplomas selected for mailing will be mailed beginning Jan. 27. Diplomas for August 2019 graduates are currently being mailed.
The official conferral date for December 2019 degrees is Dec. 21, 2019. Degrees will post to your record on Tuesday, Jan. 21, 2020. Degrees will not appear on your academic transcript until this date. Degrees will only show for those students who have satisfied all degree requirements and receive final approval. Check your academic transcript via eServices to ensure your degree has been posted before requesting official transcripts.
Diploma frames
Diploma frames designed and matted especially for VCU will be available through the bookstores. For additional information, please visit or call the Barnes & Noble @ VCU on the Monroe Park Campus at (804) 828-1678, or the Barnes & Noble @ VCU on the MCV Campus at (804) 828-0336.
Financial aid guidance
There are free resources to help you navigate life beyond college. Want to figure out how much you need to pay on your student loans and when? Visit studentloans.gov/myDirectLoan/index.action and use the online Loan Repayment Calculator or access repayment forms. Maybe you need help with making the most of your money. Learn about the Five Money Principles you should keep in mind when making day-to-day financial decisions by visiting mymoney.gov/mymoneyfive/Pages/mymoneyfive.aspx. Additionally, VCU has partnered with Student Connections™ — an organization with more than 50 years of experience in counseling student loan borrowers — to assist in understanding loan repayment commitments and in addressing any issues our students may encounter with the repayment of their student loans. Visit repaymyloans.org for assistance. These resources will help you learn ways to minimize your debt and save for the future.
Graduation portraits
Graduation portraits — featuring a choice of backgrounds — will be taken at the Siegel Center, 1200 W. Broad St., prior to Commencement exercises on Dec. 14 from 7:30 to 9:30 a.m. Graduates who wish to avail themselves of this final portrait opportunity should plan to arrive early. There is no obligation to purchase the portrait; you will receive proofs via email showing each available background. Graduation photography is coordinated through the Office of Alumni Relations. Visit vcualumni.org/Benefits/alumni-students/Graduation-photos.
Guest seating
The Siegel Center doors will be opened for guests at 9 a.m. Tickets are not required, and there is no reserved seating. In accordance with fire marshal regulations, no one will be allowed admission once the Siegel Center has reached capacity. If guests exit the Siegel Center during the ceremony, they will not be readmitted as long as the seating capacity has been reached.
Guidelines for cords, stoles and pins
We hold all of our graduates in high esteem and recognize their achievements at Commencement, a ceremony at which we celebrate the unity of the body of graduates and honor their academic achievements.
In addition to the traditional cap and gown regalia worn at this event, students are entitled to wear honor cords and stoles to signify achievement through college organizations or association with international groups or programs. The student/organization/group is responsible for the cost of any such regalia. Graduation stoles and honor cords must be in keeping with the decorum of the event and within the following guidelines:
Graduation stole – A stole takes the form of a cloth, scarf-like garment worn over the shoulders adorned with the organization's colors and/or insignia. A student may wear only one stole at a time.
Pin, insignia or badge – These items are tokens specifying academic achievement or membership in a recognized academic honor group or student organization. These items are traditionally worn on the gown. More than one of these items may be worn at the same time.
Honor cord – An honor cord signifies specific academic achievement or membership in a recognized academic honor group or society. More than one cord may be worn at the same time.
VCU is pleased to announce that, in addition to being acknowledged in the Commencement booklet, Latin honors will be available for Commencement. Baccalaureate degrees with honors are conferred in accordance with the following cumulative grade point averages: cum laude, 3.30-3.59; magna cum laude, 3.60-3.89; summa cum laude, 3.90-4.00.
These designations apply only to candidates who have completed 45 or more credit hours of coursework at VCU and have a cumulative VCU GPA of 3.30 or higher. Once the initial criteria is met, calculation of the GPA for honors determination is based on grades received for all courses taken for credit at VCU, as well as for credits accepted for transfer at VCU. If the calculated GPA falls below 3.30, the student is no longer eligible for Latin honors designation. Latin honor cords can be purchased at Barnes & Noble @ VCU once a student's GPA status is confirmed during the semester in which they plan to graduate.
For more information on Latin honors, please visit rar.vcu.edu/graduation.
All three items may be worn simultaneously as long as they do not conflict in appearance with the official stoles worn by faculty marshals or other designated members participating in the ceremony.
Although there is no set protocol for Commencement regalia, members of organizations not based on academic merit may be eligible to wear appropriate graduation stoles; honor cords; and/or pins, badges or insignias with the approval of the Dean of Students office. If your organization is interested in wearing these accoutrements, please submit your request in writing to the Dean of Students office at vcudean@vcu.edu.
Moving out
As you prepare to move out, we encourage you to coordinate with your roommates to create a move-out plan. Plan ahead and sell or donate all your unwanted items. Please note that furniture should not be left behind in your off-campus unit, nor on sidewalks or in alleyways. Local charities are available to coordinate a pickup for larger items that you have for free. For smaller, reusable items such as clothes, housewares, books and food, please drop items off in one of the many Goodwill or Ram Pantry bins located in all the residence halls and around campus. For large items that must be trashed, call 311 to schedule a bulk pickup with the city. For more tips on how to properly dispose of items, visit https://guidebook.com/guide/120900/ and click "Moving out" from the left-hand column.
Parking
Parking is available to the public for free at two VCU parking decks: the West Broad Street Parking Deck, located at 1111 W. Broad St., and the Bowe Street Parking Deck, located at 609 Bowe St. For maps and directions, visit maps.vcu.edu/monroepark/broadstdeck and maps.vcu.edu/monroepark/bowestdeck.
Persons with reduced mobility may unload at the corner of Broad and Harrison streets on the Broad Street side of the Siegel Center and park on the ground floor of the Bowe Street Parking Deck.
Pins for first-generation graduates
You First at VCU, an initiative of the Division of Strategic Enrollment Management, has a gift for you. They have designed a special "You First at VCU" pin for you to wear on your regalia as you celebrate your big day.
Who qualifies as a first-gen student? Any student whose parents did not complete a four-year degree is considered a first-generation student. Some of you may have siblings who are attending college or who completed a degree — you and your siblings are part of the same generation. You're all first-gens!
Pins will be available for graduating first-generation students at the Grad Fair on Oct. 1 and 2, and at Hibbs Hall, Room 201, after Nov. 1. For additional information, please email Mallory Mackie at mackiem2@vcu.edu.
Prohibited items
Siegel Center policy strictly prohibits alcohol, backpacks and duffel bags, balloons, coolers, bottles, cans, outside food and drink, laser pointers, artificial noisemakers, firearms, weapons or tools, wrapped packages, and banners and signs. In addition, graduates are asked not to bring their purses or other valuable items, beach balls, Silly String or flammables of any form. Be advised that the police will confiscate these items.
RSVP for VCU Commencement
Students who plan to participate in VCU's universitywide Commencement ceremony on Saturday, Dec. 14 at the Siegel Center are asked to RSVP.
Visit go.vcu.edu/decgraduates2019 to RSVP and reserve your seat.
For questions, please email UNIVevents@vcu.edu.
Special accommodations
Persons with reduced mobility may unload at the corner of Broad and Harrison streets on the Broad Street side of the Siegel Center and park on the ground floor of the Bowe Street Parking Deck, located at 609 Bowe St. Persons with hearing impairment may want to sit in Section 8, where an interpreter can be seen easily. Accessible seating options are available throughout the arena.
If you are a graduate with a disability and need accommodations at the ceremony, please contact Student Accessibility and Educational Opportunity at (804) 828-2253. Family and guests seeking additional information about accessibility/ADA at the Siegel Center should email events@vcu.edu or visit siegelcenter.com/information/guest.
VCU Alumni
You've had a great ride, and the memories of your time at VCU will stay with you forever. But don't leave VCU in the rear view. Connect now with the VCU Office of Alumni Relations to discover all the ways you can remain connected with your alma mater long after the big day. As a graduate, you can join regional, academic, identity-based or special interest-based chapters; grow your career by joining VCU's online networking community, VCU Link, at link.vcu.edu; find an opportunity to get involved with Volunteer VCU at volunteer.vcu.edu; and access resources and discounts on insurance, hotels, car rentals and more. Most importantly, make sure you stay connected after graduation by providing a non-VCU email and other updated contact information at vcualumni.org/alumni/update. Becoming official alumni is closer than you think. If you have any questions, email alumni@vcu.edu.
Visitor information
If you need information about lodging and dining accommodations, "The Official Visitor's Guide" is available from Richmond Region Tourism, 401 N. Third St., Richmond, Va. 23219. Call (804) 783-7450 or (888) 742-4666, or visit visitrichmondva.com.